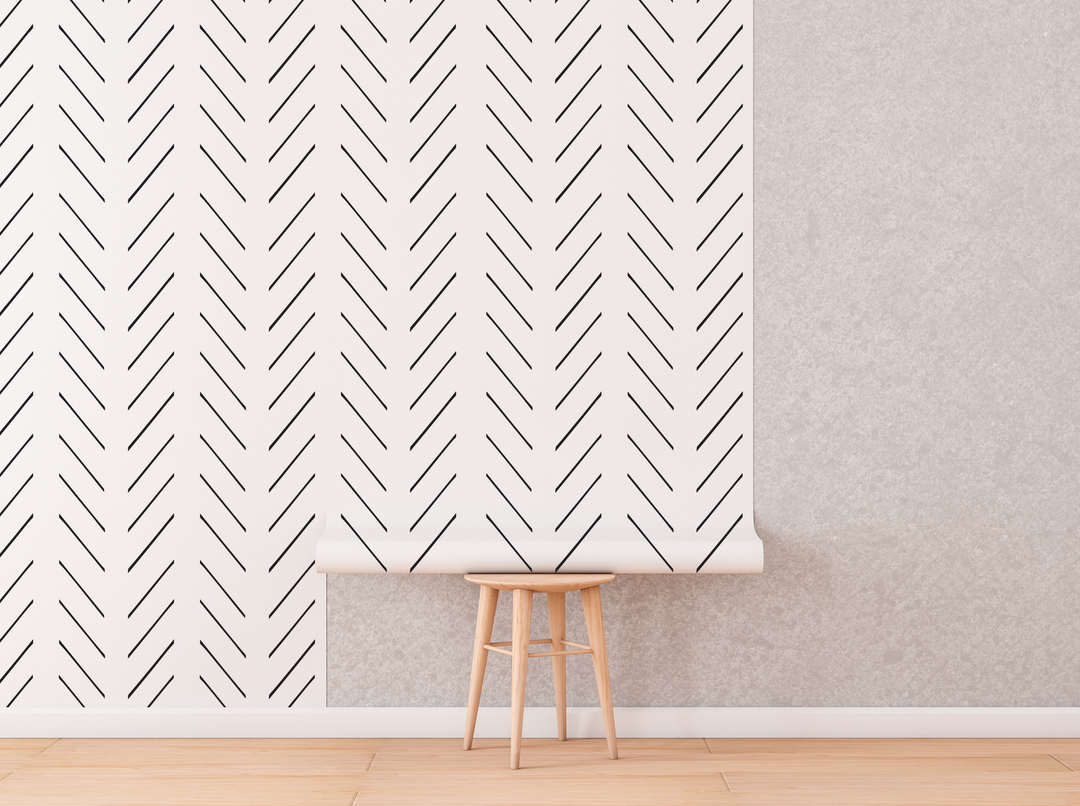 Minimal Black and White Herringbone
K200
---
Minimal black and white spaced herringbone wallpaper.

This design has a Straight Match and repeats every 7 inches. For any of available Heights, the design will always align with panel top. 
Easy Match wallpaper: columnar design, no need to look for the vertical match. Just place one panel next to the other, no matter how you put it, it will always look good! 
For any of the measurements available the design will always be the same at the top.  

This art is not customizable.
Wallpaper available in peel and stick or traditional paper. 
The sample has a 8 1/2" x 11" detail view in true scale of the wallpaper as well as a scaled preview of the full design setting including all elements within the print.
Our wallpapers are sold by panels. To cover one entire wall you will need multiple panels. You can order multiple panels in the Quantity selector.
All our wallpapers have a straight match, so they match when you put one next to the other.
We offer wide range of panel heights for all types of projects. When combining panel heights within an order, the design match to panel top.
PEEL AND STICK FOR DIY PROJECTS:
- Standard removalbe (works great, not for texture): Removable Peel and Stick 
- Works on texture: Long Term Peel and Stick 
- Beautiful finish (not for texture): Canvas peel and Stick 
Check extra specs available here: Materials 
Notes:
On painted and smooth walls, do not install Long Term Peel and Stick, it might damage the wall during removal. 
TRADITIONAL FOR THE PROS:
When hiring a professional installer consider using traditional options.
Our Traditional Pre-Pasted can be used by pros as well as DIYers, the water activated glue in the back simplifies installation.. 
Traditional Non Pasted and Traditional Canas Non Pasted are commercial grade papers, ask your installer before selecting them.
All items are MADE-TO-ORDER
Most Orders will be processed and shipped in 1 to 6 weeks.
BACKORDER 
Due to high demand some materials might be in Backorder.
When ordering a material in Backorder, consider extending the processing up to 4 weeks.
Each one of our wallpaper Materials look different once printed.
We cannot guarantee the color you see on your screen is the exact color of the final product.
We recommend purchasing a Sample first.
Check our full Color Disclaimer
Wallpapers are custom printed, we cannot re-stock or re-sell them. We do not accept returns for this item. But if you have any problem with your order please contact us.
Our goal is your success in the installation of your beautiful wallpaper. We are here to help, if you have any problem with your order please contact our support team at support@kokoartshop.com
Check our Refund Policy